The Personality tests Wave® are the best-in-class predictor of workplace performance and potential. The only personality tests on the market to cover all of the following areas within the same test:
Talent
Motivation
Competency potential
Preferred company culture
Thus, the tests provide a strong indication of a person's expected performance and potential in a work context and reveal whether he or she has the behavior and competencies necessary to succeed in a given role. At the same time, the tests provide valuable information regarding cultural fit. All of which significantly reduces the risk of incorrect recruitment and selection!
Assessment Tools Within Recruitment and Development
Use the personality tests for recruitment, selection, development, talent management, succession planning, leadership programs, coaching, and career planning.
Up to 13 Reports From 1 Completed Test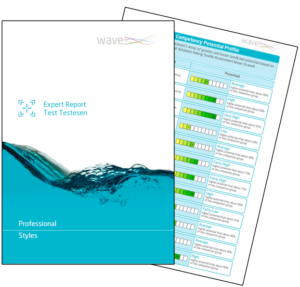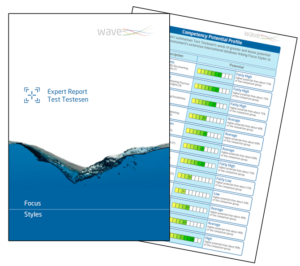 With the test results from either Wave Focus Styles or Wave Professional Styles you can download up to 13 different reports.
See the different reports here.
The personality test takes 13 minutes to complete and provides a simple and nuanced overview of the person's expected behavior via 36 descriptions divided into 12 competency areas.
Target group: Employee level and / or operational positions.
The personality test takes 40 minutes to complete and provides a detailed and nuanced overview of the person's expected behavior via 108 descriptions divided into 12 competency areas.
Target group: Specialist- and leadership positions.
How Does the Personality Tests Wave® Create Value?
After 40 years of dedicated research and test development, Saville has demonstrated superior validity and innovation with the Personality Tests Wave® alligned with comparable personality tests on the marked. Wave® covers a person's motivation, talent, preferred company culture, and competency potential – all within the same test. The connection between these four interactive and essential areas is today the key factor to obtain competitive advantages. It also ensures a greater decision-making to increase the accuracy in recruitment.
Value for the Company
The personality tests Wave also provide an overview of the candidate's style, competencies, and potential within 12 professionally relevant competence areas. Furthermore, they provide an overview of the candidate's preferred corporate culture.
Download the Line Manager Report and share it with the hiring manager, assessors, interviewers and/or other stakeholders where deemed relevant.
Value for the Candidate
The personality tests Wave give a very accurate picture of the candidate's strengths, development areas and potential. A Personal Report is available, which provides a detailed description of the candidate's style and competencies within business-relevant areas. You can either hand it over to the test person or sent directly from the test administration system.
To ensure the best possible candidate experience, we offer free online preparation guides / practice tests. You can read more through this link.
Who Uses the Personality Test Wave®
Many C25 companies, medium and small companies as well as by the public sector use our Personality Tests Wave.
The personality tests have an exceptionally high validity and they are the only tests on the market that uncover a person's talent and motivation. Within each area, you obtain information as to whether it is an area that motivates the person and whether the person is good at it. This guarantees a sovereign starting point for assessing a person for a given job in both recruitment and development contexts.
What does your company do to create competitive advantage? And how do you ensure that you are not only successful today, but also position yourself strongly in your field in the future?
Competent and motivated employees are the key to success. Employees who are a good match for their job, who thrive in the corporate culture, and are passionate as well as aware of their own strengths and areas of development are crucial.
But what does it really take to uncover the individual's opportunity and desire to both deliver the best results and at the same time maintain job satisfaction? To sum up, it is about talent, motivation, competence potential and preferred company culture – all factors that are uncovered in the personality tests Wave.
Custom Reports
Saville are specialists in developing tailored reports unique to our clients' needs.
The customized reports are underpinned by the most robust and comprehensive behavioral model in the market – the Wave® Performance Culture Framework. Combined with our expertise in competency modelling and mapping, we ensure that all important information is captured and measured. We work with you to design reports that are tailored to your specific needs.
Large-scale recruitment and development for specific roles are ideal for customization.